So here I started with wooden letters that I bought at Wal-Mart for fairly cheap.  They're pre-primed, so I just went ahead and painted them black.




Here I glued some pretty pink ribbon that just so happened to be the exact height of the letters to the sides with a hot glue gun.  :o)




This is what they will look like when done glueing.




All three letters.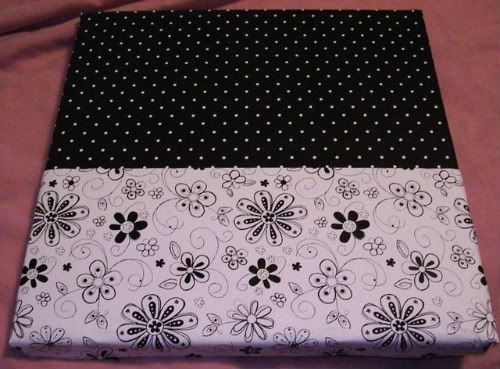 This is the first canvas after glueing the paper on.  I just used regular 12" scrapbook paper, you can use any color/pattern/style you want, that's what makes it fun!  I used aerosol glue and a hot glue gun, but your favorite glue will work just fine.  The canvases were just white blank oil paint canvases from Wal-Mart for fairly cheap and you can get them in different sizes if you like.  These are 10" I believe.  I clipped the corners of the paper and folded them over to give a nice clean look around the edges.  I do think however, that I will cover the edges with a black ribbon to give it a more finished look.  :o)




This is after glueing the first ribbon to the canvas where the two papers overlap.  Again, I used a hot glue-gun.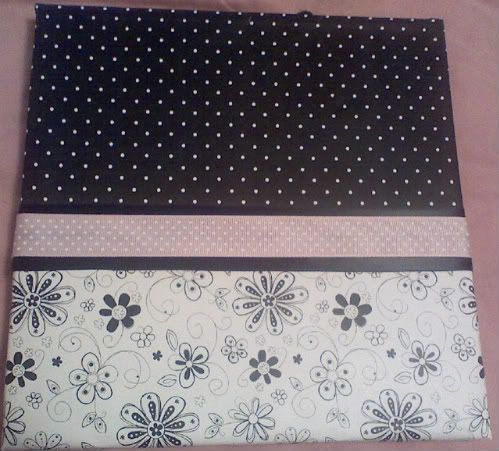 After the second ribbon.  :o)




I decided to give the letters a slight 'raised' effect, so I bought an inexpensive package of 3D-dots from the scrapbook section at Wal-Mart.  (give me a break, I work there :oP)  Apply these as needed to the back of the letters.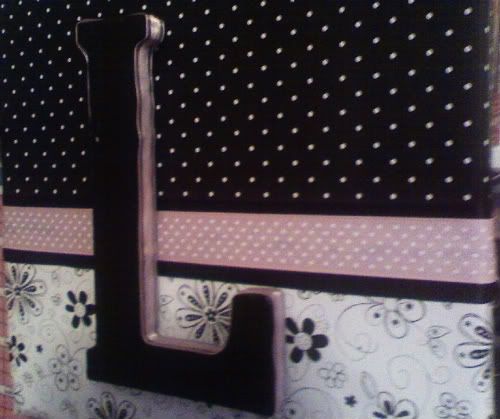 Tada!  This is what it will look like from the side.


And here are all three finished!  So yeah...I did something crafty.  Tabs, you better be proud.  :oP  Oh, and thanks for the suggestion of using two different contrasting patterned papers.  I think it looks good, don't you?  ;o)